Jaga Choco
Crispy and thick, these chocolate-dipped potato chips are perfect for snacking. Every chip has a thin layer of fried chocolate covered in its edges. They are deep-fried and served with a layer of milk chocolate. Due to the contrast between crunchy and smooth, salty and sweet, You just can't say no to this!
Melonpan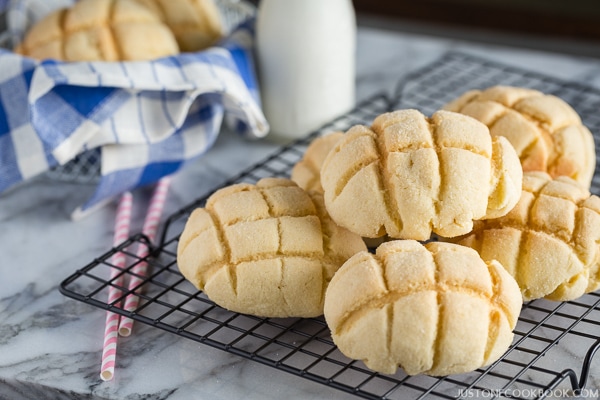 Do not let its name fool you – it does not contain melon flavors. 
These are buns with a buttery soft interior that possess a cookie-like exterior and a soft sugary inside. Melonpan is called so because their appearance is similar to that of a melon, such as a rock melon. 
Melon breads aren't traditionally flavored with melon, but manufacturers have begun to add melon in recent years.
Strawberry cheesecake KitKat
I love Japanese KitKats. Japan is known for its unique KitKat flavors, such as green tea, cherry, banana, and even some controversial ones like a baked potatoes. However, strawberry cheesecake and chocolate are two flavors that go together like peanut butter and jelly.
Pizza Potato
There's nothing better than Pizza Potato. Pepperoni pizza-flavored crisp, topped with melted cheese. In Japan, the chips are actually seasoned with real melted cheese. These are so popular that when supermarkets stopped selling them due to a potato shortage, there was an underground market.
Yukimi daifuku
The Yukimi Daifuku consists of a ball of vanilla ice milk wrapped in a thin layer of mochi, or rice cake, then soaked in coconut milk. Earlier it was wrapped in a thin marshmallow layer, Then after a few years marshmallow was quickly replaced by the mochi in Japan since it is more popular
Taiyaki (鯛焼き)
 Don't get fooled by its appearance, this cake/waffle hybrid is only filled with custard cream and red bean paste. It is commonly sold as street food. As its name implies, it mimics the shape of a Tai. The most common filling is red bean paste that is made from sweetened azuki beans. Other common fillings include custard, chocolate, cheese, or sweet potatoes
Umaibo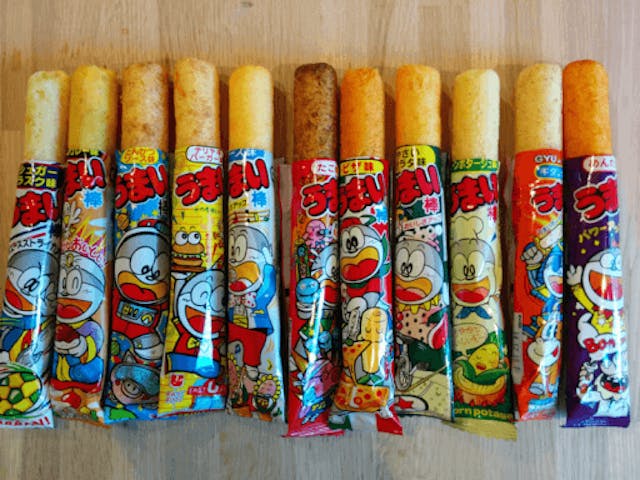 There are so many ways to enjoy this delicious puffed corn snack. Umaibo is available in several flavors, including savory flavors such as salad, mentaiko, takoyaki, and cheese; and sweet flavors such as cocoa, caramel, and chocolate.